It's all in the Details
From builder grade and bland to custom and full of character
Welcome to our completed entryway makeover! Today I want to share with you how we added board and batten to this once bland entryway to transform it into a detailed and welcoming entrance into our home. I have always admired the beautiful details found in older homes. Growing up, my parents always had our T.V. tuned to "This Old House" or something similar, so I spent a good amount of time swooning over all of the details in the homes that they featured. I spent more time wondering if their T.V. show selection was some sort of torture intended to bore me to death, but you will have to forgive me for that one. Did I mention that I was a teeny bit dramatic as a child? Back to this post though, my favorite detail that these older homes had in common was wainscoting. The depth, contrast, and visual interest that wainscoting can add to an otherwise plain wall has always drawn me in. Luckily I found my perfect match in Putter, who was also watching "This Old House" as a child, although I'm pretty sure he was doing so under his own free will. Fast forward twenty-some years later, we knew that we wanted to add wainscoting to our own home. We opted for board and batten wainscoting, as the simplicity and clean lines of this style fits perfectly with the style of our home.
Making a plan
We began this project the same way that we try to start all of our projects-making a plan. I'll admit, this part is not my strong suit. I'm much better at the physical "doing" portion of a project, so I'm glad that Putter's tendency to over plan balances me out. Plus, he actually enjoys doing math, which makes things really easy for me.
We started by selecting the proportions that we would like to use. This included new baseboard, as we knew that we do not want to keep our small, dark baseboard. After grabbing some scrap wood of different sizes and holding them up on our wall we decided to go with a 5.5" baseboard. This helped us to choose our other dimensions, based on how all of the pieces would look together and we settled on a 3.5" top rail finished with a 3/4" x 1.25" detail board and 2.5" verticals. These aren't the dimensions that you have to use, just make sure that all of your dimensions (baseboard, top rail, and verticals) look proportionate.
To make planning out the placement of the verticals and calculating the amount of material needed easy, my husband created an easy to follow diagram with all of the formulas that we used to figure out the placement of our verticals. You will need to adjust the numbers depending on the length of your wall, and the size that you choose for your vertical pieces.
Let's get started
Removing old baseboard and trim- Now that we had all of our material and measurements, it was time to get started. We began by removing our old baseboard and door trim. With a small flat bar it was easy to pry the old baseboard off.

Gathering supplies- For this project we used: 4'x8' sheets of 1/2" MDF, 1"x4" board, brad nails, caulking, liquid nails, spackling, and white paint.

Prepping the material-To save on cost, we bought sheets of MDF to rip down and make our baseboard, top rail, and verticals. We used 1/2" thick MDF which cost us just under $20 per 4'x8' sheet.

New baseboard- Our first step when installing board and batten was to remove our old baseboards and trim. We replaced the baseboard with 5.5" tall baseboard made out of 1/2" MDF. I had already prepped all of the boards that we planned to use for the baseboard, top rail, and verticals with 1 coat of white paint to make this process go a little faster. Our favorite white to use is Nimbus Cloud by Behr in their Ultra Premium Plus line. For this project and for walls in general, we use an eggshell finish. Whether you are using your existing baseboard and door trim or installing new, you should plan to paint this to match the board and batten.

New door trim- Once we had installed the baseboard we re-trimmed the doors with 3.25" wide trim and added a thicker, more detailed top piece to each of the doors. We also did a faux cedar beam opening to our front room, which was previously trimmed with the same thin trim as the doors in our house.

Installing the top rail- With the door trim and baseboard installed, it was time to install the top rail. Based on our personal preference of how tall we wanted the board and batten to be, we used a laser level to mark a line 58" high on each wall that we planned to install board and batten on. The laser level made the process really easy, because we didn't have to measure and use a traditional level to mark the correct height. If you do not have access to a laser level, don't worry! A tape measure and 4' level will do the job. Once we had the line drawn, we installed the top rail along the line that we had just marked.

Installing the verticals- With our handy diagram ready, we measured and marked where the verticals should be installed. Next we cut our verticals to the correct height after measuring from the bottom of the top rail to the top of the baseboard to get an exact measurement. We already had a general idea of how long they needed to by based on our other measurements, but it's helpful to also measure the space once the baseboard and top rail are installed to account for any variations in the wall and materials used. Once they were cut to the right height we applied liquid nails to the back side and then used 18 gauge brad nailer to secure them to the wall.

Patching- With everything installed, we began the process of making the board and batten look good. The first step of this was to fill all of the nail holes and any imperfections in the wall with DAP DryDex Spackling. Once the spackling was dry, we sanded off the excess and did another layer of spackling to make sure that everything was smooth. With the second coat of sparkling sanded it was time to move on to caulking.

Caulking- Here's where things get a little bit messy. With a fresh tube of caulking (we used this one), caulk gun, damp cloth, and some paper towels I got to work. The brand of caulk doesn't matter, just make sure that you choose one that is paintable. After applying a thin coat of caulk to a small section of seam, I took my finger and smoothed out the caulking while removing any excess and wiping it off my finger with the paper towel. Then I went over the spot with a damp cloth (actually I used part of an old t-shirt) to remove and extra caulk that was still on the wall and to smooth it out a little bit more. Once I was happy with a section of the seam I moved on to a new section, until all of the seams were filled and smooth. This makes a big difference it the quality of your finished board and batten.

Painting- When the caulking was dry I vacuumed and wiped down the wall with a damp cloth to ensure that all of the dust from sanding had been removed. This gave me a clean surface that was ready for paint. After taping off the floor, upper part of the wall, and faux cedar beam with my favorite painters tape I did all of the edging. I like to use this paint brush by Wooster because its really easy to use. Next it was time grab a roller to paint the rest of the board and batten. I prefer to use a 4" roller to paint the baseboard, top rail, and verticals, and then use a standard size roller to paint the wall between the verticals. This is just a personal preference, and you could easily use a standard size roller to do all of the painting. Since I had already prepped everything with one coat of paint, I added two more coats once it was installed. I'm not sure that the third coat was completely necessary, but I like to do an extra coat of paint when using white to ensure a bright white, clean look.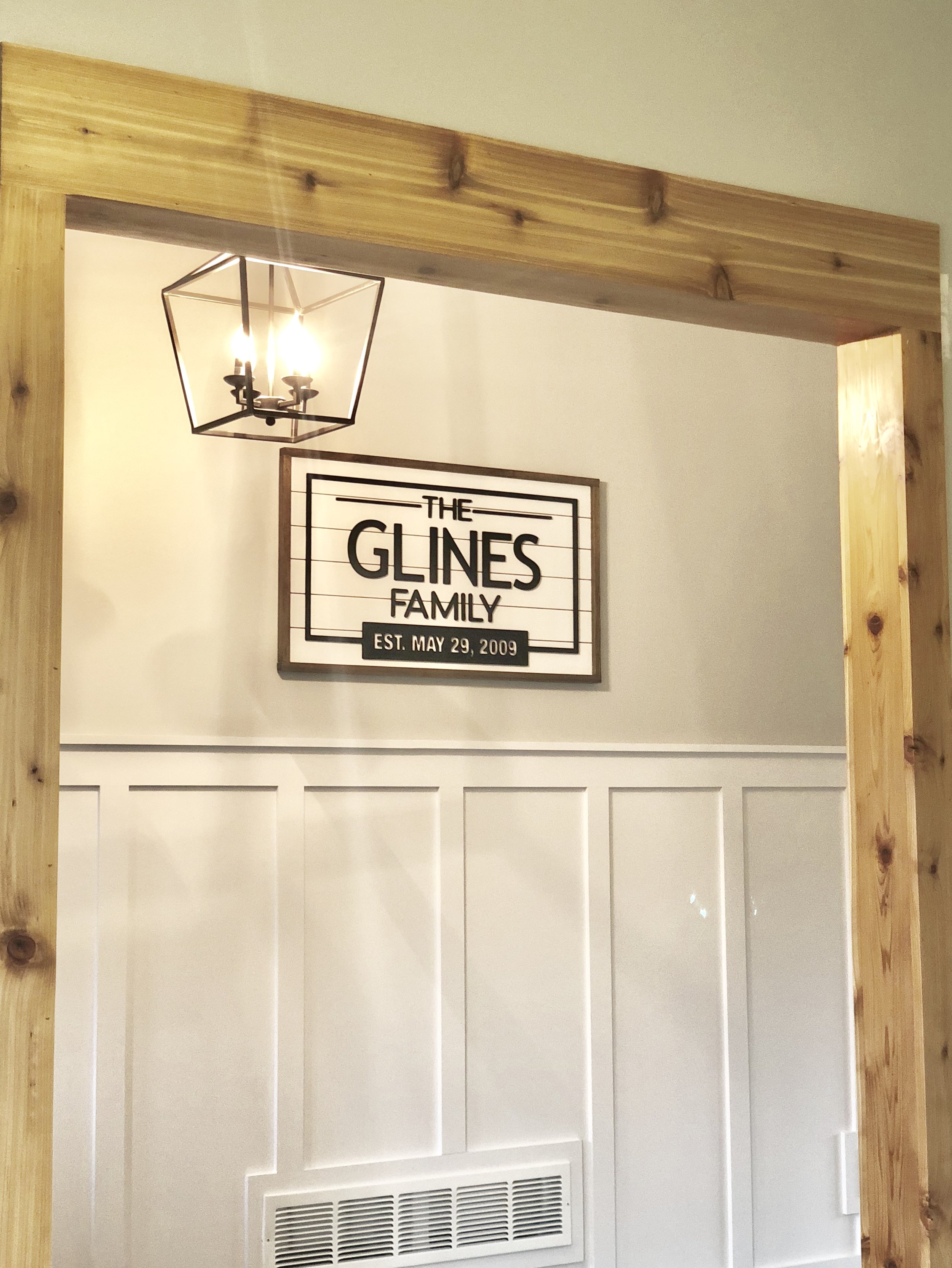 I love looking back and watching the space come together!
Another Project Completed
Now to sit back and enjoy the new board and batten
The board and batten starts in our living room, wrapping around the entryway and to the stairs. Once we start working on our office (the room through that cased opening in the entryway) we will be installing board and batten in there too.
Before and After
It's amazing the difference that a little board and batten wainscoting can make! The before and after photos of our entryway and living room wall make me smile each time that I see them, we've come a long way!
What's next?
Even though out entryway project has come to an end, I still have lots to share with you about other DIY projects that we did in this space. This will include DIY tutorials on the faux cedar beam wrapping the cased opening to our soon-to-be office, painting all of our interior doors, building an apothecary table, and making a reclaimed wood coat hanger. Not to mention the project we are currently working on for little guy's room. Goodbye crib and hello big boy bed!